Gabriel a"h and Marcelle Chehebar
Volunteer
Changing the World One Person at a Time
SBH offers unlimited opportunities to channel personal skills, knowledge, talent, compassion, and good intentions into helping others. Outstanding volunteers working together and independently throughout the SBH network, help make life better for people of all ages — from youths to senior citizens.

This Year's Highlights
Young Adults Attended Midnight Festival
Volunteers Cooking Weekly
PROGRAMS
Volunteer Captains Program Funded by UJA-Federation of New York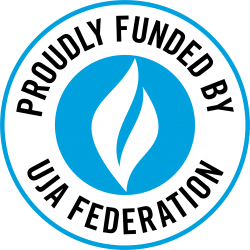 This innovative new program connects volunteers of similar skills and interests with a "Captain" in their designated area. Our team sends opportunities to the Volunteer Captains, who then share them with their groups in specialized areas such as law, medical, food, mental health, and more. This system allows us to fulfill the needs of our community by tapping into volunteers with experience in a variety of areas.
Stephanie and Jack Mosseri in honor of their parents
Team SBH
Our network of devoted volunteer athletes and coordinators work hand-in-hand to train, play and solicit sponsors for all events. Working selflessly to give towards the SBH mission and its needs, Team SBH is made up of our "champions for charity." There are a number of events throughout the year, most notably the Disney Princess Half Marathon and the Top Gun 5K. See TeamSBH.org for more information.
Joseph V. Harary a"h High School Hesed Program
High Schoolers have numerous opportunities to give of their time and talent towards the betterment of others. We are proud to be involved in the upbringing of our community's future leaders.
Weekly Events – The Youth committee run events every day, Monday through Friday.  The current schedule is Monday night food packaging and delivering, Tuesday night visiting, Wednesday night is backgammon and bingo, Thursday night cooking and Friday afternoon hallot delivering.
Special Events – In addition to the steady weekly events, the Youth committee holds a number of specialty programs including A Night in Syria, holidays events, Hesed Days, scavenger hunts, snow shoveling, and much more!
Abie & Barbara Franco Youth Leadership Program
Volunteers ages 18+ coordinate and oversee programs, services and events for their age group and the community at large.
Home Improvement – Clients in need receive a fresh coat of paint from volunteer handymen and women
GEM – Our outstanding peer to peer career mentoring program for college students and beyond.
Gourmet Giving – Singles can mingle while giving back in this unique cooking class given by well-known community chefs. All prepared food is donated to the Sarah Sutton a"h Food Pantry.
Helen's Hesed Heroes Program
Young community members in 5th through 8th grade meet up regularly to coordinate and take part in different acts of hesed.
Hesed on the Go
There is an ongoing need for volunteers to drive clients, make deliveries, and assist SBH in various hesed activities that require a car. Hesed on the Go has an extensive list of volunteers ready to drive wherever necessary to get the job done.
The SBH Source
The official magazine of SBH is our number way avenue for letting the community know about our mission, our accomplishments, and our continued endeavors. Volunteers write, edit and oversee distribution of this important marketing tool.
Sedaka Box Campaign
Volunteers distribute and collect kuppot/sedaka boxes from homes and stores around the area.
Tutoring
Many clients and community members are unable to give their children the added luxury of an often necessary tutor. With our tutoring program, volunteers can give families and students an extra boost of education and confidence.
Volunteer Luncheons
Volunteers host private luncheons in their home for friends and family to learn about the vast number of volunteer opportunities available to them.
Hesed Mission
An all-day adventure of hesed is an experience no one forgets. Since our first mission in Spring 2015, SBH has coordinated dozens of Saba Chesed Missions for volunteers to experience and enjoy.
Hesed-A-Day Program
Learn more about our volunteering opportunities! Check out our Volunteer Booklet here.